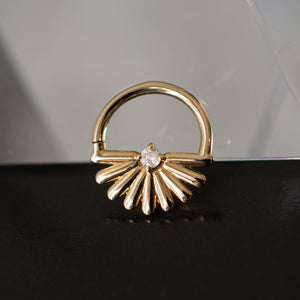 Made by Tawapa in Los Angeles, CA.
14k yellow gold

16 gauge
3/8" W x 1/4" H inside diameter
2mm diamond
*Please note: this ring features a seam closure, which requires bending ring to insert and remove. Excessive or improper bending can result in misshaping or otherwise damaging the jewelry. We recommend getting help from a professional piercer for safer insertion and removal.