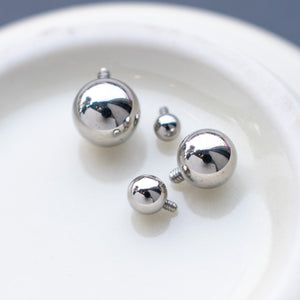 Basic ball threaded end made by Industrial Strength in Carlsbad, CA. Compatible with industry standard internally threaded barbell posts in the corresponding gauge. 
3/32" ends are Ti-6Al-7Nb ASTM F-1295 Implant Grade Titanium and are not countersunk

1/8" ends and larger are 316LVM ASTM F-138 implant Grade Stainless Steel, and are countersunk

Sold individually - order two for a pair
Please be sure of your size before ordering--you can refer to our sizing guide here for measuring help.